UK Prime Minister Boris Johnson has warned there are signs of a "second wave" of coronavirus cases in Europe, but what's the evidence for that?
Talk of a second wave is the stuff of nightmares, conjuring up images of another deadly surge of infections.  This is what happened with Spanish Flu after the First World War when a second wave proved deadlier than the first.  But the truth is many experts try to avoid the phrase altogether.
Some countries, such as South Korea and Singapore, have been better than others at flattening it from the start by stopping the virus spreading by using comprehensive testing and tracing regimes.  But others – and the UK, France, Spain and Italy are examples of this – have just managed to flatten it partway through the wave by introducing lockdowns.
This was because they did not have such sophisticated infectious disease systems in place to control the virus.  Thanks to investment, they are in a much stronger position now and have been able to release lockdown, while still trying to suppress the virus wave through testing and tracing.
But there are signs cases are picking up, especially in Spain.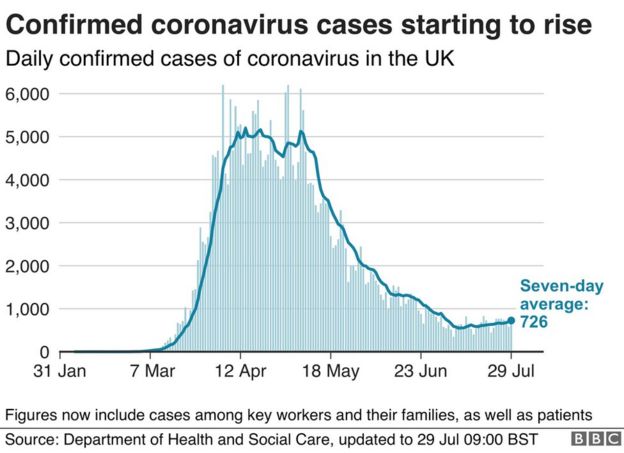 But rather than this being a second wave – or the start of one – perhaps we are better off thinking of these as the existing wave bursting through the defences.
Prof Paul Hunter, a Covid expert at Norwich Medical School, says for it to be a second wave the virus would have to have gone away completely, so he prefers to call it a "resurgence".  And really it should come as no surprise that this happens in highly-populated areas like Western Europe.  Containing the virus relies on good systems for detecting cases and for the public to play its part by social distancing, and engaging with the test and trace systems.
Clearly any weakness leaves countries susceptible, particularly to this virus which can be transmitted even if people are not displaying symptoms.
However, while cases may be going up, it is worth noting they are nowhere near the levels seen during the peak of the pandemic.
England had the highest levels of excess deaths in Europe between the end of February to the middle of June, official analysis shows.  The Office for National Statistics said England saw the second highest peak rates of death in Europe, after Spain.  But England had the longest period where deaths were above average, and so overall had the highest levels.
The ONS analysis shows the epidemic in the UK was more widely spread than in other countries.  However, areas in Spain and Italy were harder hit than cities in the UK.
(Article from the BBC)